Once Rupert Murdoch & Co. managed to dumb down the British Culture, it was not too difficult for a few good-old-boys to elevate themselves to the level of significant artists in Britain. Nowadays, Guy Ritchie, who's more like a good-old bad-boy, seems to be enjoying his turn (return?) as a significant film-director, thanks to the popularity of his new franchise "Sherlock Holmes". And, Sir Arthur Conan Doyle is rumored to be turning in his grave, groaning "Elementary my dear Downey Jr., you're no Holmes…" 

What made Conan Doyle's great detective one of the most beloved fictional-characters in the world was his ability to use reason, not karate-chops and fire-arms. After Scotland Yard detectives would give up on solving a particular crime, Holmes would be called in. He would show up on the crime scene, pipe-in-mouth, often with Dr. Watson by his side, quietly but keenly observing, sampling the evidence, asking a few questions, but always thinking and reasoning. Pretty much what a scientist does while trying to solve the mysteries of the universe.
Sometimes, Holmes would be presented with the case in his own living-room by a potential client. If he thought he could solve it, he would take the case, and then quickly jump into action. Not the kind of action Mr. Ritchie presents us in his last two "Sherlock Holmes" movies, but almost exclusively, the action of the mind and reason.
Holmes will take a break from his intense crime-solving mental-activity based on pure logical reasoning, and relax a bit by playing his violin. And, sometimes the answer will come to him during these breaks. Not surprisingly, scientist extraordinaire Albert Einstein pays homage to Holmes' method of operation when he writes about his own in solving the mysteries of the physical universe (space-time & relativity, photo-electric effect, Brownian motion…).
In Doyle's "Sherlock Holmes" stories, there isn't much running around, pushing and shoving; wild chases; long, bloody fist- and sword-fights; or spectacular Hollywood-style explosions. There isn't even a Professor Moriarty, the recently over-blown "archenemy" of Holmes, except in one story out of more than sixty Doyle wrote (and, Doyle introduces Moriarty in what he meant, at the time, to be the very last  story: "The Final Problem". For Doyle, it was a device to bring about the demise of the detective, just so that he could gracefully end the long-running series).
Yet, as we all know, most movies made today (by Hollywood or otherwise) are obsessed with the concept of an "antagonist" (archenemy of the protagonist, if you will) and require one in real flesh & bone; the more powerful and evil, the better the antagonist. For Doyle's Sherlock Holmes, the "antagonist" was the mystery of the crime itself, whoever happened to have committed it. And, the challenge for Holmes (and, the joy, no doubt) was to solve it by using his reason and logic. Once he solved it, he also enjoyed explaining how he did it to the ever-puzzled Dr.Watson (and, to us, the equally-puzzled yet captivated-readers) starting with his by-now-classic line: "Elementary, my dear Watson…"
I don't blame Guy Ritchie & Co. too much for giving in to the temptation of re-inventing "Moriarty" as a major character and what they think needs to be the obligatory antagonist in their recent films; they probably think he is an excellent device for their kind of story-telling. But, on top of re-inventing Moriarty as the great antagonist, if they were also going to brutally sacrifice Holmes' reason in favor of a totally made-up, silly and violent physicality (unapologeticly acted out by the otherwise-highly-talented Robert Downey Jr.), then, why did they have to call the protagonist of their movie-franchise "Sherlock Holmes"? Why couldn't they call it another name? For instance, how about "Schmuck Murdoch"? At least, it would've had a bit of a rhyme and reason. Fair and balanced?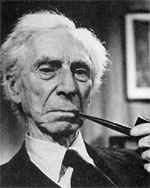 Bertrand Russell
You may be wondering why I keep bringing up reason, again and again? That's because I happen to be a big fan of "Enlightenment", which is also referred to as the "Age of Reason". Originating in Europe in the 17th century, it was the philosophy that championed the power of reason. It promoted science and the free exchange of ideas, all in the service of advancement of knowledge and directed towards reforming the society. It vehemently opposed dogma, superstition and intolerance, whether by the state or by the church.
Starting with the philosophers and scientists such as Descartes, Spinoza, Lock and Newton, and gaining momentum with Voltaire, Rousseau, Montesquieu and Kant in Europe, and Benjamin Franklin and Thomas Jefferson in America, all the way to the contemporary giants like Bertrand Russell and Noam Chomsky, to name just a few, Enlightenment has been the most reliable and valuable intellectual force behind what we know as the "Western Civilization".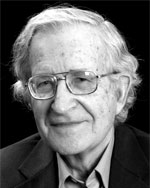 Noam Chromsky
Not that it hasn't been challenged and threatened repeatedly throughout, whether by the church and clergy; numerous religious fundamentalist movements; despotic kings & emperors; or by dogmatic and brutal regimes (such as those of Hitler, Mussolini and Stalin), the list has been long. Even to this day, the assault continues, not only from the religious fundamentalists, overtly (think of their relentless promotion of "Intelligent Design" over Darwin's "Natural Selection"), but, increasingly from our very hip pop-culture, which sadly includes the mainstream TV & Movie Industries on both sides of the Atlantic (covertly, and much of it out of simple greed for the almighty $$$ and out of sheer ignorance).
Speaking of religion, I've never heard of a scientist who claimed that her/his discoveries were based on "revealed" knowledge, regardless of whether she/he believed the existence of God or not. And, in my book every true scientist is a practitioner of "Enlightenment", whether she/he is aware of it or not.
Here, may I write a quick note to a very nice, young man, and a recent role-model to many, Mr.Tim Tebow? Thank you.
Dear Tim- First, please consider the possibility that as hard as you've prayed before the AFC Championship game, somebody in the Patriots team might have prayed a little harder. So, please don't be disheartened and lose faith. Second: an improvement in your signature praying-posture might be in order. Forgive me for reminding you that the proper Christian posture is to get down on both knees. Unless, of course, its the journey and not the final score that matters…as, I'd guess would be in your case (besides, being close to God has its own rewards, no doubt). Oh, one more thing: Just in case…You may want to check in with NY Knicks' Jeremy Lin; he seems to be getting excellent results on the score-boards without any public display of his faith. Please keep up the good work, and stay strong and healthy. God bless!…
But, I digress…
Conan Doyle's Sherlock Holmes was the embodiment of reason, and therefore, truly personified the spirit of "Enlightenment". Guy Ritchie's film-version of Holmes is just another silly action hero of the "Rambo, Batman, Spider Man, Iron Man" kind.
Speaking of silly, the lovable bad-boy Charlie Sheen and his fans may want to take note:
More than two-and-a-half men died defending the Western Civilization against genocidal-fascism on the Normandy shores alone (almost 5000 on D-Day). So, I ask: Will we now allow ourselves to lose it right here, on the "Jersey Shore"? Or, in the cleavages & cracks of Kardashians? Will we give it up for the allure of the sex-kitten Paris Bimbo or the manure of the Coulter-smitten Rambo Limbaugh? Worse yet, will we surrender it to our "born-again-Christian & born-against-intellect" Governors from Texas? (its been two-in-a-row lately; must be the oil in the water at the Governor's Mansion. Roman Emperors had a similar problem with lead).
Choosing between reason and stupidity shouldn't be this difficult. Sherlock Holmes I loved always knew the difference.
And, that's a wrap! (or, should I have said rap?).
But wait! This is just in:
Hollywood & British tabloids are abuzz with these big-budget movies in the works:
Mahatma Gandhi drops the spinning-wheel and picks up the sword in:
"Iron-Man Gandhi:The Taliban Terminator" (in 3-D)
And, the much anticipated:
"Yahweh reveals relativity to Einstein" (in 4-D)
Mr.Guy Ritchie is reported to be the front-runner to direct both movies.